Violet bird's nest orchid
Limodorum abortivum
Limodore à feuilles avortées
Presence in France. See link below.
Height. 30cm - 80cm
Leaves. Sturdy stem with no leaves. The plant is saprophyte and lives without chlorophyll and may only appear every 5 or 6 years.
Flowers. 5 to 25 flowers, large, erect, purple or purplish, sometimes variegated dirty white or yellowish bracts similar to the scales of stem, equaling or shorter than the flowers, lateral sepals and petals free, spreading or upright vertically, the two dorsal petals a little shorter; lip elongated (up to 25 mm), with a terminal portion dilated, almost heart-shaped, with statements and jagged edges, inside white-washed cream violet spur 12-25 mm long.
Flowering period. May - July
Soil type. Slightly wooded or open sparse scrub often on hillsides or rocky places.
Protection.
Liste des espèces végétales protégées en région Pays-de-la-Loire : Article 1
Liste des espèces végétales protégées en région Centre : Article 1
Liste des espèces végétales protégées en région Bourgogne : Article 1
Liste des espèces végétales protégées en région Picardie : Article 1
Liste des espèces végétales protégées en région Lorraine : Article 1
Liste des espèces végétales protégées en région Franche-Comté : Article 1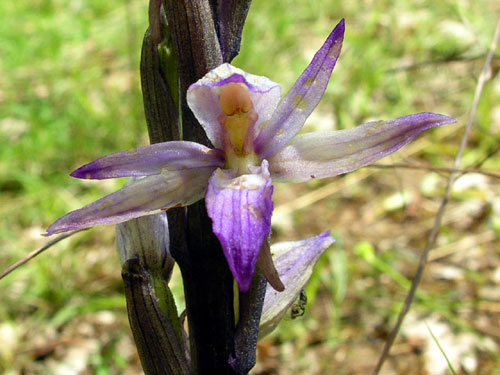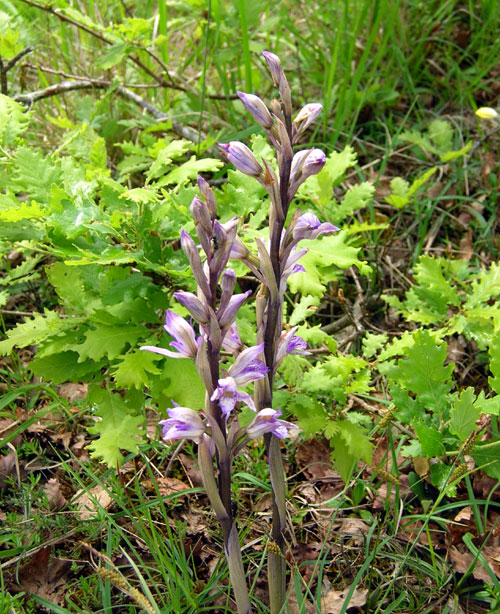 French link for this species including map HERE