Reproduction takes place in April / June with males and females that have over-wintered from the previous year.
They will often be seen going in and out of holes looking for suitable wood in which to make their egg chambers, in doing so they will examine anything that resembles a hole, even in concrete posts, if this happens to be in the gaps in the walls of your stone house you should not be concerned, even in your roof structure there is no problem as they do not like dry, hard, well seasoned wood.
Degraded old logs, dead trees and branches etc. are the preferred location and frequently an existing hole is used.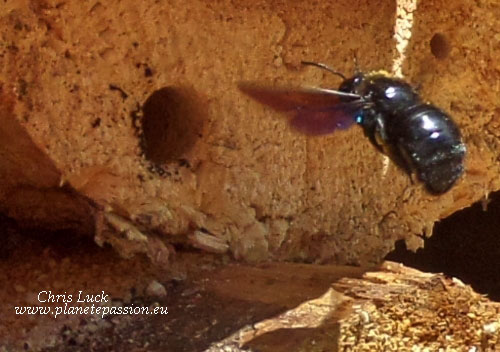 A single entry hole leads into multiple galleries into which the female lays her eggs, each one blocked in with a pellet of pollen which provides nutrition for the larva. As few as 3 and as many as 30 eggs may be laid in a tunnel complex.
The adults then emerge at the end of summer and over-winter to continue the cycle.
They are not aggressive and rarely sting.
There are no other insects in France that resemble these bees, therefore there can be no possible confusion.
Conservation advice: Leave veteran trees to stand, this is of upmost importance for so many species. Make a log pile in a corner of your garden; this can be hidden behind a bush or shrub. Although currently not threatened in France all bees both social and solitary are important pollinators.
Xylocopa iris is like a smaller version of the above species at 15 to 20mm long and is present in the South and West of France and has been observed inland as far as Indre. The flight period is from April until September and the nests are made in the hollow stems of plants like Angelica, Asphodel and Thistles. They will chew their way into the stem and clear the interior to create an egg chamber. It appears to be a species that is increasing its range northwards.

​Xylocopa cantabrita is a rare species in France with very few observations in the Var in the South East and in the Pyrénées-Orientales in the South West. A large species it is unlike the others being shades of light brown with wings that lack the metallic reflection.